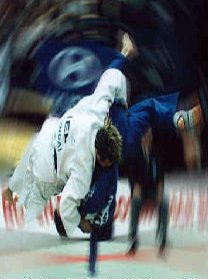 A Two Part Comprehensive Psychological Training Program
for Judoka
CD ONE
Relaxation and Imagery Conditioning :
to train your body and mind to relax and perform at their best
CD TWO
Subliminal Suggestion and Self-programming :
to enhance the development and maintenance of a positive, winning attitude

The Two Part
Basic Mental Training Programs
for Judoka start at only
$99.99

Click here to receive our
free
Applied Sport Psychology
Newsletter
Free Workbook | Free CD | Free E-Zine | Free Affirmations | Testimonials | Attitude | Relaxation |Visualization | Subliminal | Birthing | Ordering | Weight-Control | Traders | Links | Privacy Statement | Ask Dr. Relax | Alternate Site | Soccer | Golf | Skating | Running | Tennis | Football | Cycling | Volleyball | Alpine Skiing | Nordic Skiing | Baseball | Skydiving | Snowboarding | Powerlifting | Basketball | Judo
UNLOCK THE HIDDEN POWERS OF YOUR MIND
AND GAIN A COMPETITIVE EDGE
A proven system of psychological training specifically designed for Judoka now assures that players that use it will have a significant advantage over their opponents. Every athlete who uses this two part basic Sport Psychology of Judo mental training system will master the cognitive skills needed to consistently perform at their best.

Through the use of MP3 files or CDs, specialized mental strength building exercises and unlimited electronic consultation with Dr. Beale, this system teaches players, over a four-week period, how to enter the ideal state of mind sometimes referred to in sports psychology as "The Zone". As a result of the training and consultation players quickly learn how to apply the three basic skills of:
| | |
| --- | --- |
| I. | Voluntary Relaxation/Arousal Control |
| II. | Mental Rehearsal |
| III. | Attitude Management |
Research and experience have proven that Peak Performance on the mat is the result of proper physical training and preparation, proper nutrition and diet and proper psychological training and preparation. Most judoka are aware of and use proper physical and nutritional preparation but very few incorporate all three essential ingredient into their training regimen. With this low cost, highly effective system of mental preparation every judoka can now include all three essential areas in their training and as a result, perform more consistently at the top of their potential.

Order your comprehensive Basic Mental Training Program today and start your journey down the path to even greater success as a Judo competitor. Positive results are guaranteed or your money back . We accept Master Card, Visa, American Express and checks by phone, fax and e-mail. For more information click here.
Enter our drawing for a free Personalized Subliminal CD
Call
(808) 261.1833
or toll free at (888) 625-2743
for more information
©Copyright 1998, Sierra Center for Peak Performance